Jyotishka Biswas, Eric Lau, Kalki Seksaria, Tiffany Wang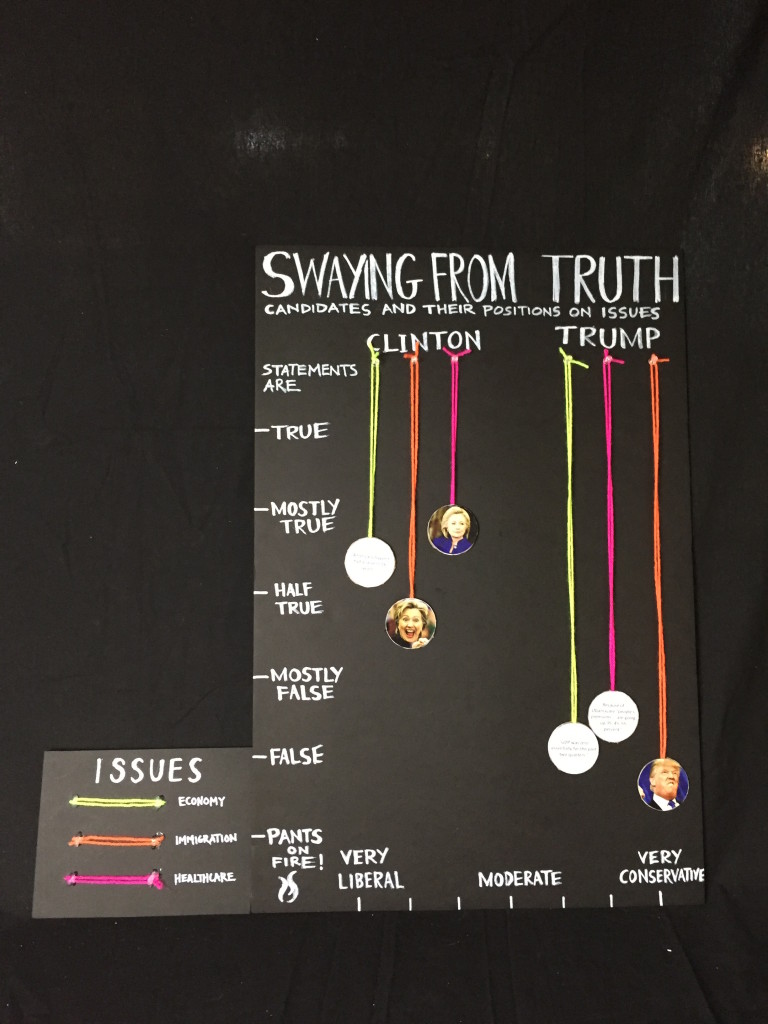 The data say that Donald Trump and Hillary Clinton differ wildly both in political ideology and in general truthfulness, with Clinton trumping Trump in the latter. We want to tell this story because with the upcoming election, it's important that people know both where the candidates stand and what they will say to gain political support.
In celebration (trepidation?) of the upcoming election, we looked at two data sets: the candidate files at PolitiFact and this New York Times interactive article on where the presidential candidates stand on various political issues.
We focused on Hillary Clinton and Donald Trump, who are the leading candidates (as of 3/14/2016) of their respective parties, and three issues — immigration, economy, and healthcare. From the New York Times article, we calculated how liberal each candidate is on a particular issue. From PolitiFact, we calculated the average truthfulness of statements within each issue category. In the resulting "pendulum chart", we hoped to show a clear difference between the truthfulness and political stances of Clinton and Trump.
For our intended audience of moderately informed likely voters, we wanted to provide a lighthearted but informative view of these candidates. The sculpture was designed to be interactive — the pendulum heads have example statements from the candidates on one side and pictures of their faces on the other which vary corresponding to the average truthfulness, and are designed to swing slightly when picked up to support the "swaying from the truth" metaphor. To help with this, we created a smaller two-sided card containing the legend and information about the display, meant to be picked up and read by the interested viewer.
Yet we wanted the presentation to be just as useful when viewed from a distance, which informed our use of bright colors, bold text, and the easy-to-understand physical variables of position and length. The result, we hope, is a presentation that provides information at finer levels of granularity as the viewer approaches it, but for which the general message is clear throughout. As for the message, our aim was to avoid showing obvious bias through visual design differences between the candidates — the goal is for the data, through the presentation, to speak for itself.